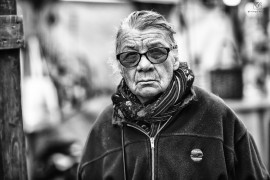 I don't like to ask and I never do, except someone has already seen me and I still want to take his portrait. Then I have to ask to get the shot. But all the other times I don't. Sometimes people yell at me, but this is not really a problem. You can still talk to them, telling them what you do and delete the photo, if you really have to.
Obviously people will be a main subject matter in most street photographer's works. When dealing with people the big question is whether or not you should ask your subjects before taking their photograph. Also, whether you should ask someone to pose for the photograph. Most, if not all, street photographers will jump on this question and say absolutely not – never ask! But, is it really that simple? Are we to truly believe that all great "street" photos were taken in absolute candid situations? As a general rule I would agree with the not asking approach. Most posed photographs will look, well, posed. The reason I claim to not make a hard and fast rule about this is because if you are to sacrifice a good photograph because you believe you should never ask, I think that is a mistake. Sometimes you will just not get the shot unless you expose yourself and ask for permission – at least tacitly.
But for me, I actually think that getting a powerful image that is shot with permission is actually much more difficult than without permission (candidly). Why is that? Well, if youve ever tried to shoot a "street portrait" (with permission), you might have the biggest problem most photographers face: having the subject look too "posed". So how can we crack the barrier of asking strangers permission to take their portrait, and have it look more real, authentic, and non-posed?
Don't be afraid. Don't hesitate. Don't think you are pissing off or upsetting people. You are trying to uncover a deeper part of someones soul. You are trying to find this hidden beauty, or this hidden pain. But you are doing it for all the right reasons. I think asking for permission to photograph a stranger is actually much more difficult than shooting candidly. Because you have to make yourself vulnerable to being rejected. But know the more you get rejected, the more resilience you will build up— and soon you will love to get rejected (or become indifferent to it). Because the more you get rejected, the more you are to have someone say "yes".